Asus TUF FX505DT Gaming Laptop Review
If you're looking for a powerful yet affordable gaming laptop, the Asus TUF FX505DT is a good option. It has a powerful AMD Ryzen 7 processor and an NVIDIA GTX 1650 graphics card, making it more than capable of handling most games. It also has a solid build quality that can withstand some abuse. In our full review, you can learn more about this low-cost gaming powerhouse.
Overview
The Asus TUF FX505DT gaming laptop is an excellent choice for gamers looking for a dependable, powerful machine that won't break the bank. It has an AMD Ryzen 5 3550H processor, 8GB of DDR4 RAM, and an NVIDIA GeForce GTX 1650 graphics card so that it can handle intense gaming sessions with ease. The laptop also has an anti-dust fan system that keeps dirt and debris out of its internals for longer battery life, as well as wave-textured metallic accents, to make it stand out. The Asus TUF FX505DT hits all the right buttons for gamers looking for extreme performance at an affordable price, thanks to its slim design and 15.6-inch IPS display with vibrant visuals.
Design and build quality
The Asus TUF FX505DT Gaming Laptop offers an excellent balance of portability and gaming performance. With its brushed metal finish, angular lines, and intricate patterns, this device is a serious gaming machine from the outside. When you turn it on, the 15.6-inch Full HD display has a stunning 1080p resolution. When you pick up the laptop, you can tell that it was designed with care because it feels incredibly sturdy and robust. Further inspection reveals that Asus has gone above and beyond to keep their promise of military-grade toughness, with reinforced corners and an anti-dust cooling system. In terms of build quality, this laptop is top-notch, with its sturdy construction capable of withstanding even the most ferocious of gamers' abuse while on the go.
Performance and specs
The Asus TUF FX505DT is a powerful laptop designed for gamers who demand the best performance and specifications. This laptop, equipped with the latest AMD Ryzen 5 3550H Processor, 8 GB of DDR4 2400MHz RAM, and a discrete NVIDIA GeForce GTX 1650 Graphics card, will provide you with a smooth and fluid gaming experience regardless of the game you choose to run. Its 15.6″ Full HD Display has a refresh rate of 120Hz, allowing you to enjoy every minute detail of your game at its best. Furthermore, this laptop provides a variety of storage options, including a 256GB M.2 NVMe PCIe 3.0 SSD and a 1TB 5400rpm HDD, allowing the user to download any desired media or games in an instant while still having enough space for additional apps and files. Finally, Asus has delivered a powerful gaming laptop capable of handling almost any task thrown at it at an affordable price, making it one of the most sought-after laptops for any gaming enthusiast.
The gaming performance and testing
The Asus TUF FX505DT gaming laptop is a powerful machine that gamers will love. This laptop is equipped for engaging gaming experiences, thanks to its AMD Ryzen 5 3550H processor and Nvidia GeForce GTX 1650 graphics card. To evaluate its performance, we ran it through popular games like Grand Theft Auto V, The Witcher III: Wild Hunt, and Apex Legends. The end result was impressive: each game had smooth frame rates and realistic graphics. Furthermore, the fans in the Asus TUF FX505DT laptop do an excellent job of cooling the system even during intense gaming sessions so that you can game to your heart's content without fear of overheating.
Battery life and overall portability
Many gamers appreciate the Asus TUF FX505DT's portable and energy-efficient design. This laptop has an exceptional battery life, lasting up to 8 hours under normal usage, providing gamers with plenty of time to enjoy their favorite games without having to worry about replacing the battery. Furthermore, its lightweight design and slim profile make it ideal for on-the-go gaming. Its small size allows it to fit perfectly into a backpack or carrying bag, making it easy to transport wherever you go. The combination of a powerful CPU and GPU, as well as a long-lasting battery, makes this an excellent choice for those looking for a great gaming experience as well as reliable portability.
Display quality and color accuracy
The 15.6-inch full HD display on the Asus TUF FX505DT gaming laptop is ideal for immersive gaming action, with stunningly vivid colors and excellent visual quality. Because of its Full HD resolution of 1920 x 1080 pixels, the IPS panel with a refresh rate of 120 Hz produces exceptionally sharp images. Color accuracy has also been considered, with the laptop featuring a 100% sRGB color gamut for increased vibrancy and lifelike scenes in games. It also has anti-glare technology, which reduces eye strain when gaming or watching content on the laptop for long periods of time. If you're looking for a laptop that provides excellent visual quality both indoors and outdoors, the ASUS TUF FX505DT Gaming Laptop is well worth considering!
Keyboard and touchpad experience
When it comes to typing and navigating on its keyboard and touchpad, the Asus TUF FX505DT laptop excels. Its full-sized keyboard is ergonomically designed, with a 1.8 mm key travel distance and a comfortable typing feel, while the larger keys aid in typing accuracy. Furthermore, the anti-ghosting feature allows for up to 30 simultaneous keystrokes, ensuring that no keystrokes are missed. The TUF FX505DT also includes a wide range of RGB lighting that can be customized using Asus software, allowing you to create stunning lighting effects throughout your workspace. The trackpad is also quite large, allowing for faster navigation without having to reach for the mouse and providing an accurate response to various gestures such as scrolling, clicking, and selecting text with ease. All of this adds up to a truly impressive user experience when using the keyboard and touchpad on the Asus TUF FX505DT laptop.
Comparison to similar gaming laptops in the same price range of Asus TUF FX505DT
The Asus TUF FX505DT Gaming Laptop is an excellent choice for gamers seeking a laptop in the same price range as its rivals. When compared to similar gaming laptops, the FX505DT has an excellent cost-performance ratio, with an impressive 8GB DDR4 RAM that puts it ahead of lower-priced rigs with much slower hardware. Furthermore, the AMD Ryzen 5 3550H processor ensures that gamers can enjoy smooth and uninterrupted gameplay even when using intensive graphics or processor-intensive game mechanics. All of this makes the TUF FX505DT an excellent choice for gamers who don't have the budget to go all out on speed but still want dependable and powerful performance.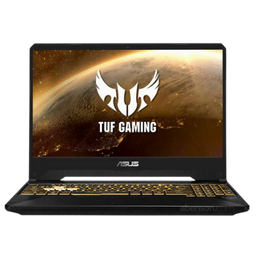 ASUS TUF FX505DT
---
15.6-inch FHD Display
Ryzen 5 3550H
GTX 1650
ASUS TUF Gaming A15
---
15.6″ FHD 144Hz Display
Ryzen 7 6800H
RTX 3050 Ti
Additional features such as cooling system, audio, and networking capabilities
The Asus Tuf FX505DT gaming laptop offers an entirely new set of features and capabilities. For starters, the cooling system improves performance by increasing airflow. This reduces the risk of overheating and allows for smooth gameplay and maximum efficiency. Second, thanks to NVIDIA Audio technology, the audio system provides stunning clarity, ensuring that you never miss out on any details during detailed in-game moments. Last but not least, the networking capabilities provided by the 802.11ac Wi-Fi connection and Gigabit Ethernet port provide strong stability as well as blazing fast speeds that go beyond just gaming—you can also do reliable web browsing! Overall, these extra features enable gamers to maximize their gaming experience with the high-performance and dependable Asus Tuf FX505DT laptop.
Conclusion and final thoughts
Overall, the Asus TUF FX505DT gaming laptop is an excellent choice for those looking for a good balance of portability and power. The lightweight and slim design makes it extremely portable while still maintaining a high level of build quality that is both stylish and sophisticated. The AMD Ryzen 5 processor and NVIDIA GeForce Graphics card collaborate to provide a fluid gaming experience in full HD at high settings. Furthermore, the laptop's capabilities can be expanded thanks to 8GB of RAM, 256GB NVME SSD storage, and multiple expansion ports. Despite its impressive features, the TUF is still reasonably priced when compared to other gaming laptops on the market today. The Asus TUF FX505DT is an excellent choice for a casual laptop or one capable of handling serious gaming and graphics-intensive tasks.
With its high-performance specs and low price, the Asus TUF FX505DT is an excellent value for a gaming laptop. It has a solid build, an excellent keyboard and touchpad, and excellent gaming performance. The only disadvantage of the Asus TUF FX505DT is its shorter battery life when compared to other laptops in its class. Overall, the Asus TUF FX505DT is an excellent choice for budget-conscious gamers seeking a powerful and portable laptop capable of handling the latest games at high settings.