Asus TUF FX705 Gaming Laptop Review
If you're looking for a laptop that can handle your gaming needs, consider the Asus TUF FX705. This powerful machine includes everything you need to enjoy the latest games, such as a large screen, a fast processor, and plenty of memory. It also includes useful extras such as a backlit keyboard and an extended battery life. Continue reading our Asus TUF FX705 gaming laptop review to find out more.
Overview
Asus is one of the most trustworthy brands in today's laptop market, and their TUF FX705 Gaming Laptop is unquestionably a strong contender for the best budget gaming laptop. This laptop not only delivers with highly competitive specs like an 8th Gen Intel Core processor, NVIDIA GeForce GTX 1050 graphics, and a 144Hz Wide View IPS Panel display – but it also comes in at a surprisingly low price! It features customizable looks, extreme durability, and stability, as well as cutting-edge cooling and silent performance, making it an excellent choice for even the most intense gaming adventures. Prepare to be immersed in the world of fluid gameplay with your very own Asus TUF FX705 Gaming Laptop Experience.

Design and build quality
The Asus TUF FX705 is a powerful gaming laptop with an enticing design and build quality. The laptop has an attractive matte black finish with orange detailing that allude to its capabilities. Close inspection reveals that the aluminum keyboard housing's robust construction, as well as its strong hinge design, speak volumes about its durability. With a thin-bezel 17.3-inch Full HD display that stands out from the crowd, the interior chassis creates an ergonomic environment. This full-size immersive experience generates stunning visuals that both thrill and energize gamers during long sessions of play. ASUS has also strengthened the entire system by including additional design elements, such as an independent thermal solution for both the CPU and GPU, as well as anti-dust tunnels for improved cooling performance and system sturdiness. Overall, the Asus TUF FX705's combination of design aesthetics and structural integrity makes it an ideal gaming laptop option for any gaming enthusiast looking to elevate their gaming experience.
Performance and specs
The Asus TUF FX705 is a high-performance laptop designed for the most demanding gamers. It has a cutting-edge Intel 8th Gen i7-8750H 6-core processor that can reach speeds of up to 3.9GHz when needed, as well as an Nvidia GeForce GTX 1050 Ti 4GB GDDR5 graphics card for crisp visuals and improved performance in the latest games. It also has 8GB of RAM and a generous 1TB HDD storage capacity, giving it plenty of power to keep up with all of your gaming and other needs. Furthermore, for on-the-go users, the laptop has a great battery life of around 6 hours. This laptop has something for everyone, whether you like FPS or RTS games or enjoy creative work. A prime example of Asus's superior design.
Gaming performance
Gaming performance testing on the Asus TUF FX705 laptop was a huge success. Popular games like Assassin's Creed Odyssey, Far Cry 5, and Rainbow Six Siege were chosen for testing to see how well it handles various intense graphical sections and heavy combat scenarios. The laptop had an 8th Gen i7-8750H 6-core processor, 8 GB of RAM, and a GTX 1050 4 GB graphics card, so it should be capable of handling modern gaming. After hours of testing and benchmarking, the results were quite impressive, with all of the selected games running smoothly at very consistent frames per second. Even when settings had to be reduced to achieve an optimal balance of performance and visuals, the experience remained quite good. Overall, this laptop is an excellent choice for gamers seeking a mid-tier laptop that performs well without breaking the bank.
Battery life and overall portability
Battery life and portability are always important factors to consider when purchasing a gaming laptop, and the Asus TUF FX705 does not disappoint. With a battery life of up to 6 hours, this laptop provides plenty of time away from the charging brick without sacrificing any of its other exceptional features. Furthermore, with a chassis that is only 0.98 inches thick and weighs 5.29 pounds, it is incredibly portable and easy to carry on the go. Despite these impressive specifications, what truly distinguishes this laptop is its uncompromising combination of power and durability, which allows gamers to stay on top of their game with confidence, knowing that their device will not let them down no matter how difficult the situation may be.
Display quality and color accuracy
The Asus TUF FX705 gaming laptop has an impressive 17.3-inch FHD display with a refresh rate of 144 Hz and stunning picture quality ranging from 30 to 60 or even 144 frames per second, depending on the game being played. In terms of color accuracy, this model includes the standard 72% NTSC gamut and the broadest sRGB spectrum. Looking at it objectively, Delta E values are always less than three, indicating that color accuracy is very good; it does not exceed the 132% Adobe RGB value, but that is only because it is considered a "gaming" laptop. The bottom line is that if you're looking for a machine to play videos and games on, this laptop will do an excellent job – the Asus TUF FX705 screen's display quality and color accuracy are both excellent.
Keyboard and touchpad experience
With its keyboard and touchpad, the Asus TUF FX705 provides an excellent user experience. Its full-sized backlit keyboard is highly responsive, providing a comfortable typing experience for both gaming and everyday tasks. Its key layout provides a lot of options, and the WASD keys provide optimal responsiveness during intense gaming sessions. The spacious layout also ensures a natural typing angle. The precision touchpad is smooth and highly accurate, delivering an overall outstanding performance across all modes of operation. Overall, the Asus TUF FX705 is easily among the best gaming laptop keyboards and touchpads available.
Comparison to similar gaming laptops in the same price range of Asus TUF FX705
The Asus TUF FX705 is an excellent gaming laptop with features tailored to gamers at an affordable price. In comparison to other gaming laptops in its price range, the Asus TUF FX705 stands out due to its well-balanced combination of hardware specifications and sleek design. The laptop includes NVIDIA GTX graphics cards, a large storage capacity for all of your games, 8GB of RAM, an anti-dust cooling fan, and excellent audio quality. It also has a longer battery life than similarly priced models, allowing for longer gaming sessions. This model has ports for connecting additional peripherals and a 144Hz refresh rate display capable of producing full HD visuals, in addition to the practically invincible design and attractive visuals that come standard on many modern gaming laptops — all while remaining affordable. Overall, it is an excellent choice for purchasing a long-lasting machine capable of playing the latest games without breaking the bank.
ASUS TUF Gaming A17
---
144Hz FHD Display
AMD Ryzen 7 6800H
GeForce RTX 3050 Ti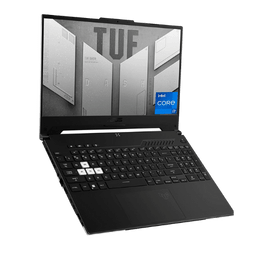 ASUS TUF Dash F15
---
Intel 12th Gen i7-12650H
Geforce RTX 3070
144Hz FHD Display
Additional features
The Asus TUF FX705 Gaming Laptop is designed to enhance your gaming experience, and its impressive array of extra features ensures that you get the most out of it. The laptop has a dual-fan cooling system that helps keep heat away from your hands and fingers while the thermal fins spread and disperse this heat away from the system. Furthermore, ASUS cooling technology maintains optimal CPU and GPU temperatures regardless of the game. AudioWizard 3D technology has been integrated into the laptop to ensure a rich audio experience, and it employs an array of two 2W tweeters and two 4.2W speakers for stellar sound reproduction. Finally, the ASUS TUF FX705's networking capabilities have been tailored for gamers, thanks to its Gigabit Ethernet LAN connection with anti-surge protection—all of which provide lag-free network connections no matter where you take your gameplay.
Conclusion and final thoughts
Overall, the Asus TUF FX705 gaming laptop is an excellent choice for gamers seeking a mid-range laptop at a reasonable price. Its powerful components and customizable settings make it an excellent choice for gamers of all skill levels, as well as professionals looking for consistent performance. Its lightweight construction makes it easier to transport, and its sleek design adds a touch of sophistication to any desk setup. In comparison, the battery life may be less than that of some competitors, the combination of its other features more than compensates. Finally, its port selection ensures that you'll have plenty of connectivity options for connecting additional peripherals or displaying content on an external monitor. Overall, the Asus TUF FX705 is unquestionably one of the best options in its category.
The Asus TUF FX705 is an excellent gaming laptop for those seeking a long-lasting, powerful, and portable machine. It provides solid overall performance and specs, with particularly impressive gaming performance thanks to its GTX 1050 GPU. The display is also bright and colorful, and the keyboard and touchpad are both user-friendly. The Asus TUF FX705 should be at the top of your list if you're looking for a good all-around gaming laptop under $1000.