Asus Zephyrus M16 Review
The Asus Zephyrus M16 is a high-end gaming laptop with exceptional performance. It's one of the thinnest and lightest gaming laptops available, with a unique AeroBlade 3D Fan System that provides excellent cooling. The laptop also has a bright, colorful display and a high-quality keyboard. The Asus Zephyrus M16 is an excellent choice if you want a powerful gaming laptop or a stylish computer for work or school. Continue reading for our full review.
Overview of the ASUS Zephyrus M16 gaming laptop
The ASUS Zephyrus M16 gaming laptop combines desktop gaming power with the portability and convenience of a laptop. The dual-layer liquid metal cooling system keeps temperatures under control, while the Intel Core i9-13900H processor and NVIDIA GeForce RTX 4090 graphics card provide graphical fidelity and performance for demanding games. The 16″ QHD IPS display has 100% sRGB color accuracy and a refresh rate of 240 Hz. Storage options (up to 2TB NVMe SSD) ensure quick boot times and smooth loading. Finally, the lightweight frame makes this machine portable, making it ideal for gamers looking for curated gaming experiences without sacrificing performance or weight. Overall, the ASUS Zephyrus M16 is an excellent choice for gamers seeking exceptional performance in a portable form factor.
TECH SPECS
Processor
13th Gen Intel® Core™ i9-13900H Processor
GPU
NVIDIA® GeForce RTX™ 4090 Laptop GPU
RAM
32 GB
Storage
2TB PCIe® 4.0 NVMe™ M.2 Performance SSD
Display
ROG Nebula HDR Display
16-inch
QHD+ 16:10 (2560 x 1600, WQXGA)
Refresh Rate:240Hz
Ports
1x 3.5mm Audio Jack
1x HDMI 2.1
2x USB 3.2
1x USB 3.2 Type-C
1x Thunderbolt 4 support DisplayPort
1x card reader (microSD)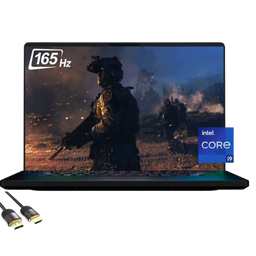 ASUS ROG Zephyrus M16 (2022)
---
12th Gen Intel -Core i9-12900H
GeForce RTX 3070 Ti
16″ WQXGA 165Hz Display
Release Date : 2022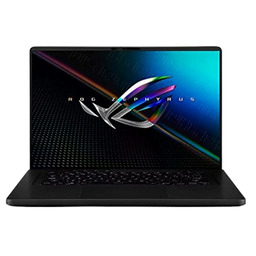 ASUS ROG Zephyrus M16 (Core i7)
---
Intel Core i7-12700H Processor
GeForce RTX 3060
16″ WQXGA 165Hz Display
Release Date : 2022
Design and Build Quality of Asus Zephyrus M16
The Asus Zephyrus M16 laptop is quite impressive. It has a well-crafted metallic construction that is both lightweight and durable. The angular edges make it stand out, and the slim profile makes it easy to transport. The ports are well-organized for easy access when connecting or charging your laptop's accessories. Furthermore, the interior of this laptop exudes quality. The keyboard features ultralow-profile switches that provide a tactile, clicky feel reminiscent of a gaming mouse, and the trackpad is incredibly responsive, ideal for intense gaming sessions. With all of these features, the Zephyrus M16 is one of the best gaming laptops available.
Zephyrus M16's display quality
The Zephyrus M16 is well-known for its high-quality display, which provides viewers with a breathtaking viewing experience. Its QHD+ 16:10 (2560 x 1600, WQXGA) resolution is crystal clear, and its color accuracy ensures that any visuals are displayed in true-to-life form. Furthermore, the laptop has a peak brightness of 500 nits, allowing you to use it outdoors or in brightly lit rooms without sacrificing visibility. To top it all off, this highly detailed, vibrant image can be viewed from virtually any angle without color shifting or distortion, making it ideal for watching movies with large groups of friends.
Performance of Asus Zephyrus M16 and storage capabilities
The Asus Zephyrus M16 offers superb performance for a laptop of its size. It has an Intel Core i9 processor with 8 cores, 32GB of RAM, and an NVIDIA GeForce RTX 4090 GPU that provides excellent speed and performance when playing games or running demanding applications. You'll also get plenty of storage options, including up to 2TB M.2 NVME PCIe 4.0 storage, which allows you to store all of your computing data without sacrificing speed or performance. Furthermore, it has a fast refresh rate that provides a smooth gaming experience with minimal input lag, as well as support for VR and multiple gaming monitors. When each feature of the machine is examined, it is clear that the Zephyrus M16 is one of the best laptops available in terms of performance and features.
Gaming Performance of the Zephyrus M16
The Zephyrus M16 provides an excellent gaming experience, allowing gamers to enjoy the action on its smooth 120Hz display. It also has a lot of power under the hood, thanks to the Intel Core i9 processor and the NVidia GeForce RTX 4090 GPU. Those internals result in some truly impressive frame rates in AAA titles, which frequently exceed 100 FPS on high settings. Because of its thoughtful design in cooling and heat transfer, performance and graphics quality remain consistent throughout. This makes it ideal for hours of uninterrupted gaming, whether playing alone or with friends.
Battery Life Analysis of Asus Zephyrus M16
The Asus Zephyrus M16 has a long battery life, which allows users to get the most out of their laptop experience no matter where they are. This laptop can last up to 12 hours on a single charge in typical usage scenarios, making light work of tasks like web browsing and document creation. Furthermore, in heavy use, such as gaming or video streaming, this laptop lasts an impressive 8 hours before needing to be recharged. Although the battery life is not as impressive as that of lower-powered machines, it is more than adequate for a typical day's work that includes some multitasking. The Asus Zephyrus M16 has a long battery life that is certain to please its users.
Overview of the Zephyrus M16's keyboard and touchpad
The keyboard and touchpad on the Zephyrus M16 are integrated, making it easier to use and more ergonomic while gaming. The key travel is shallow but responsive, allowing for fast typing in both work and gaming modes. Though feedback is somewhat lacking, Actual Force Curve technology evens things out by providing a consistent feedback level to ensure that typing remains easy regardless of which keys you press. Because of its low power consumption design and two-finger scrolling capability, the touchpad has very good overall functionality; however, it occasionally fails to register to click accurately when finger size is not taken into account. Overall, the Zephyrus M16 provides a dependable combination of keyboard and touchpad that can assist any user in having a smooth gaming experience.
Ports and Connectivity
The Asus Zephyrus M16 offers a wide range of ports and connectivity options to keep you running at top speed. It has an abundance of USB ports for peripherals or connecting an external monitor, making it an excellent choice for those who need to connect additional devices or work on dual screens. It also has one HDMI port for easily streaming content from your laptop to an HDTV or projector, as well as audio jacks for connecting directly to speakers or a headset. With so many ports and connectors, the Asus Zephyrus M16 is ready for any task you throw at it.
Software and Features
The Zephyrus M16 laptop is ideal for anyone who needs to multitask and stay connected without sacrificing style or performance. Microsoft Office is pre-installed, and the device itself can be easily customized with multiple profile settings and preferences. Furthermore, users can protect their data from hackers by utilizing advanced security features such as fingerprint authorization, facial recognition technology, and Windows Hello face sign-in. The Zephyrus M16, with its efficient design and powerful features, ensures that you have all the tools you need for peak productivity at home or at work.
Final thoughts on the ASUS Zephyrus M16
To summarize, the ASUS Zephyrus M16 is a powerful and dependable laptop suitable for gamers, content creators, and everyday computer users. It has a slim design, a long battery life, and a bright display. In terms of performance, it provides excellent graphics quality and can easily handle heavy workloads. However, the lack of ports may be a deal breaker for some users. Finally, given its features and price range, the ASUS Zephyrus M16 is an excellent choice for anyone looking for a low-cost yet powerful gaming laptop or a strong general-purpose device.