Asus Monitor Reviews & Recommended Asus 24 inch Monitors
Are you looking for a new monitor? If so, you should look at our list of the best ASUS monitor. Based on features, performance, and price, we've compiled a list of the best ones on the market. So, whether you want a high-end gaming monitor or a more affordable option, we've got you covered. Continue reading to find the best ASUS monitor for your needs!
1. ASUS VP248QGL
The ASUS VP248QGL is an excellent choice for those looking for an entry-level 24 inch monitor.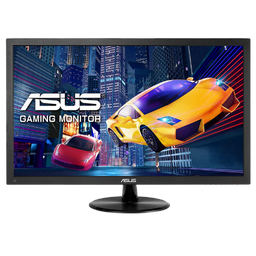 If you're looking for a budget-friendly 24-inch monitor, the ASUS VP248QGL is a good option. It has a Full HD resolution and a smooth refresh rate of 75 Hz, resulting in sharp images with vibrant colors. This monitor is built to last and has an ergonomically designed stand that allows for swivel, tilt, pivot, and height adjustments while keeping your neck, shoulder, and back comfortable. It even includes Splendid Video Intelligence technology, which optimizes image quality based on ambient lighting conditions, making it suitable for all of your needs, from movie watching to gaming sessions. It also has Multiple ports, allowing you to quickly switch between multiple video devices without having to unplug any cables. The ASUS VP248QGL is an excellent choice for budget-conscious customers, thanks to its excellent features and low price.
2. ASUS VG248QE
The ASUS VG248QE is a step up from the VP248QGL, offering 144Hz refresh rates and 1ms response time.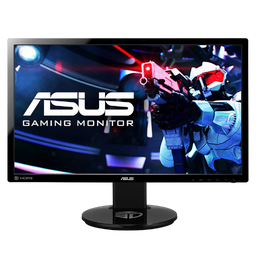 ASUS is a desktop monitor industry leader, and the ASUS VG248QE is one of their 24-inch masterpieces. It has a 144Hz refresh rate for ultra-smooth visuals and a 1ms response time for lightning-fast speed. This combination consistently produces sharp and crisp images, regardless of your requirements. Whether you're competitively gaming or working in heavy graphical applications, this ASUS 24 inch monitor will deliver top-tier performance every time. To ensure you get the most out of your monitor setup, ASUS includes many user-friendly features such as swivel stands, multiple connectivity options, ASUS Eye Care technology, and more. This model of ASUS 24 inch monitor is difficult to beat in terms of value for money and performance capabilities.
3. ASUS ROG Swift PG259QNR
The ASUS ROG Swift PG259QNR is the best choice for gamers, with its 360Hz refresh rate and G-Sync compatibility.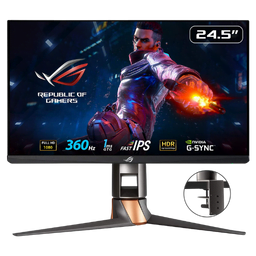 With its 360Hz refresh rate, the ASUS ROG Swift PG259QNR raises the bar for gaming monitors, providing gamers with an immersive experience unrivaled by any other Asus 24 inch monitor. Its G-Sync compatibility ensures that lag time is minimal and graphics look smooth and stunning, while its ergonomic design ensures maximum comfort even during extended gaming sessions. Furthermore, this monitor is exceptionally versatile, with multiple inputs and split-screen functionality to ensure that you don't miss a beat. With all of these features packed into a single sleek package, the ASUS ROG Swift PG259QNR is the ultimate 24 inch monitor for gamers looking for the best performance.
4. ASUS Designo MX27UC
The ASUS Designo MX27UC is a good choice for designers and professionals, with its 4K UHD resolution and 100% sRGB coverage.
For designers and professionals who require the precision and accuracy of a high-quality monitor, the ASUS Designo MX27UC is an excellent choice. Its 4K UHD resolution delivers vivid, ultra-detailed images, and its 100% sRGB coverage ensures accurate color reproduction across various applications. Gamers will love its 3W stereo speakers powered by ICEpower technology for immersive audio, and its Ultra-Low Blue Light Filter will keep their eyes healthy after long hours of gaming or work. The MX27UC combines professional performance and convenience in one sleek package with a minimalist design that looks stylish on any workstation. This corporate-level big-screen monitor is ideal for creating digital artwork or editing videos.
5. The ASUS ProArt PA278QV
The ASUS ProArt PA278QV is the best choice for photographers and videographers, with its HDR10 support and 99% Adobe RGB color gamut coverage.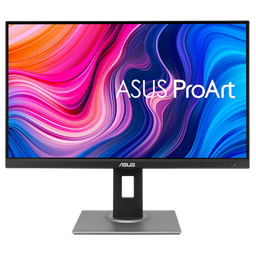 The ASUS ProArt PA278QV monitor is ideal for photographers and videographers who require accurate color and sharp details. Because of its HDR10 support and 99% Adobe RGB color gamut coverage, this is an excellent choice for these professionals. This ASUS monitor has many customizable features that allow users to ensure color accuracy when editing photos and videos. The ASUS ProArt PA278QV produces high-quality images and videos that are true to life, allowing professional photographers and videographers to bring their work to life.
6. ASUS ROG SWIFT PG329Q
If you're looking for an ultra-wide monitor, the ASUS ROG SWIFT PG329Q is the best option, with its 2560×1440 resolution and 144Hz refresh rate.
If you want an ultra-wide monitor with stunning visuals and exceptional performance, the ASUS ROG SWIFT PG329Q should be your first choice. It has a 2560×1440 resolution and an LED display that produces crystal-clear images. The 100Hz refresh rate reduces motion blur and allows for smooth on-screen movement during fast-paced action or gaming. This monitor is suitable for almost any type of use, thanks to features such as G-Sync compatibility, eye-care technology, and adjustable positioning options. With improved color accuracy, excellent image contrast, and HDR support, the ASUS Rog Swift PG329Q provides a fantastic gaming experience for those interested in gaming. This monitor will meet all of your needs, whether for work or play!
7. ASUS VS247H-P
ASUS VS247H-P 23.6″ Full HD 1920×1080 2ms HDMI DVI VGA Back-lit LED Eye Care Monitor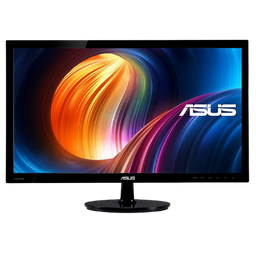 The ASUS VS247H-P monitor was created with both comfort and style in mind. It has a 23.6″ Full HD 1920×1080 screen with excellent contrast and clarity. It also has a 2ms response time, which ensures smooth visuals even during the most intense gaming sessions. With its flicker-free backlight, blue light filter, and low-blue light mode, ASUS' Eye Care technology ensures that users are looking after their eyes while playing. The VESA mount allows for simple wall mounting in any space, and the built-in speakers allow you to watch movies or listen to music without taking up too much space. It also has a lot of ports, including HDMI, DVI, and VGA, giving you a lot of connectivity options! The ASUS VS247H-P monitor is an excellent choice if you want a high-quality monitor at a reasonable price.
8. ASUS MG248QR
ASUS MG248QR 24″ FreeSync Gaming 144Hz 1ms Response Time 1080p TN panel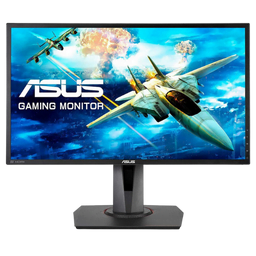 The ASUS MG248QR 24-inch FreeSync Gaming monitor is an excellent choice for all gamers out there. It has a 144Hz 1ms response time combined with a 1080p TN panel, resulting in a fast and smooth gaming experience that will give you a competitive advantage when playing your favorite games at the highest levels. As one of the top ten ASUS 24-inch monitors available, it distinguishes itself from the competition by providing exceptional color reproduction and visuals with its unique LED backlight feature, as well as complete ergonomic tilt, swivel, and pivot adjustability for improved comfort during those particularly long sessions. Furthermore, multiple input connections ensure seamless connectivity for full HD entertainment, and three different game modes are easily accessible via the QuickFit Virtual Scale button for improved gaming experiences.
9. ASUS Designo MX279H
ASUS Designo MX279H 27″ Full HD AH-IPS LED Monitor with Frameless Design and Built-in Speakers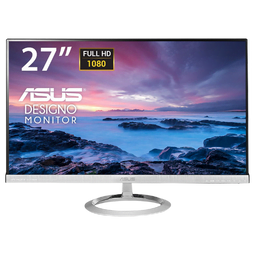 The ASUS Designo MX279H 27″ Full HD AH-IPS LED Monitor with Frameless Design and Built-in Speakers is intended to deliver a stunning viewing experience to users. This monitor's frameless design provides a seamless viewing canvas for the ideal home or office setup. The monitor also has 178° Ultra Wide Viewing technology, which provides a more vibrant image and allows you to see more details from any angle. Furthermore, it includes built-in stereo 7W speakers powered by Bang & Olufsen ICEpower® Technology for optimal sound, allowing you to enjoy videos and games in immersive audio. This Asus monitor, a powerful combination of visuals and sound, makes it a must-have for anyone looking to maximize their multimedia experience.
10. ASUS VP28UQG
ASUS VP28UQG 28″ 4K/UHD 3840×2160 1ms DP HDMI Adaptive Sync/FreeSync Eye Care Monitor
The ASUS VP28UQG is a 28-inch 4K/UHD 3840×2160 1ms DP HDMI Adaptive Sync/FreeSync monitor. Eye Care Monitor has a vast number of features that make it an excellent choice for gamers, film buffs, and other tech enthusiasts. To synchronize the refresh rate with whatever you're watching, its adaptive sync technology supports both AMD FreeSync and NVIDIA G-SYNC Technology. It also has a 1ms response time, so you can enjoy smooth animations and sharp image details when gaming or watching movies. It has ASUS Eye Care Technology, which reduces Blu-ray disc intensity and filters out flicker to keep your eyes comfortable for extended periods of time. Furthermore, its sleek design allows it to easily fit into any environment, and it comes with full connectivity options, including two HDMI ports, DisplayPort 1.2, and multiple USB 3.0 ports for easy connection to all of your peripherals. This monitor is ideal for those looking for a 4K display at a low cost!
11. ASUS PB287Q
ASUS PB287Q 28″ 4K UHD (3840×2160) 60Hz 1ms DisplayPort HDMI Ergonomic Back-lit LED Monitor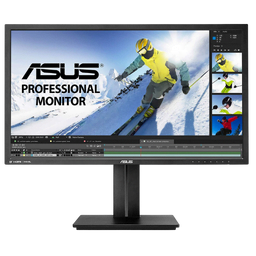 The ASUS PB287Q 28″ 4K UHD monitor offers crystal-clear images and exceptional performance in a sleek, user-friendly package. The fast refresh rates ensure smooth visuals and responsive motion with its 3840×2160 resolution and 1 ms response time. It also has built-in 10W speakers that provide high-fidelity surround sound for a truly immersive viewing experience. Furthermore, the tilt of its ergonomically designed backlit LED panel can be adjusted to any angle for optimal viewing. This high-quality ASUS monitor is an excellent choice for gamers, graphic designers, and moviegoers who want to enjoy their multimedia content in stunning ultra-HD detail.
If you're in the market for a new monitor, you should think about a few key factors before making a purchase. The size of the monitor is the first thing to consider, and an ASUS 24 inch monitor may be the perfect size for you. Next, you'll want to consider the resolution you require. After that, consider the type of panel that would best suit your requirements. You may be interested in features such as G-Sync or FreeSync. Finally, before making a purchase, you should determine your budget. Taking these factors into account, you can easily find the Best ASUS monitor to meet all of your needs.